Mailing List
Join my mailing list.
Links

Guestbook

In The News

Discuss

Event Calendar

Contact me
Election Info
Nathan Martin was elected in October 2003 to fill the unexpired term of Councilman Randy King who passed away in February, 2003. The term ends June 30, 2006.

Register to Vote
You can register to vote at the Registrar of Voters office in the Rapides Parish Courthouse, at any Driver's License Bureau or by visiting the Louisiana Dept of Elections. Please vote in every election!

Donate
You can make a safe and secure donation to the Nathan Martin Campaign Fund through PayPal.
Contact Me
Nathan Martin
107 Valley Dr.
Pineville, LA 71360
Home: 641-0987
Fax: 448-7065.
Email: Nathan@NathanMartin.net
Yard signs by
Gwennies
Welcome to my home on the web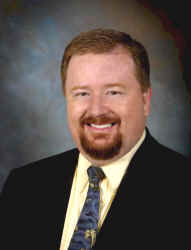 Hello, my name is Nathan Martin and I'm the City Councilman for Pineville's District 5. I've designed this web site to tell you a bit about me and to hear from residents of District 5 as to your concerns. I hope you'll explore the various pages of this site and get to know me and my family a little better. And please use my feedback page to let me know how the City of Pineville can serve you better!
---
IF YOU'RE LOOKING FOR THE NATHAN MARTIN WHO IS RUNNING FOR OHIO'S 4TH CONGRESSIONAL DISTRICT SEAT, TRY HIS WEBSITE AT: http://www.martin4congress.com/
---
I've been a resident of Pineville for most of my life as my family moved back to Pineville when I was in the 8th grade. (My dad was born in Pineville and our line of Martins has been in Central Louisiana since before Louisiana was a state. The first Martin in Louisiana was William Martin who was a Revolutionary War soldier. He is buried in Vernon Parish.) I've been here ever since except for the time I left to study after high school and the 4 years I spent in Mexico as a missionary with World Indigenous Missions. I returned to Pineville in 1990 with my wife and 1st daughter and we've put our roots down deep. We've had two more daughters and bought a home as well as opened a couple of businesses (Precision Woodworks and Martin Properties) in Pineville. I am deeply committed to Pineville and want to see it grow and prosper. Please contact me if I can serve you.
Family
Husband of Lori Marie Chapman Martin of McAllen, TX
Three daughters: Joy (15), Faith (13) and Hope (10)
Son of Lawrence "Buddy" and Betty Martin of Pineville
Education
Work Experience
1981-82: 1st job was at Starks Family Restaurant (now Dairy Queen) on Hwy 28E
1983: Gary's Fried Chicken, Pineville
1983: Alexandria Music Sales, Alexandria
1984-85: Christian Book Shop, McAllen, TX
1986: "on-air" personality, KDBS Radio, Alexandria
1986-1990: Missionary to Mexico w/World Indigenous Missions
1991-present: Associate Pastor Christian Challenge, Pineville (In May, 2004 I was installed as Pastor)
1992-2003: "on-air" personality and special projects, KWDF/KOUZ Radio, Pineville
1997-present: design/maintain www.Pineville.net
1999-present: co-founded Precision Woodworks with brother André, Pineville
2002-present: co-founded Martin Properties of Cenla, LLC with brother André, Pineville
Community Involvement
Commissioner: Pineville Downtown Development District
Member: Town Talk Advisory Council
Member: Rapides Parish Education Committee (1996-2002)
Member & Former President Central Louisiana Ministerial Association
Coach: RAPSA Soccer
Track Announcer: Pineville's P.U.R.E. BMX Track (formerly Kees Park BMX Track)
Co-founder/organizer: Cenla March for Jesus
Member of Alexandria/Pineville September 11 Commemoration Committee
Sports radio announcer: Louisiana College's football and basketball teams (KOUZ 89.9FM)
Volunteer teacher: Governor's Program on Abstinence
Former Board of Directors: Shepherd Center
Member: Metropolitan Planning Organization
Member: Rapides Area Planning Commission